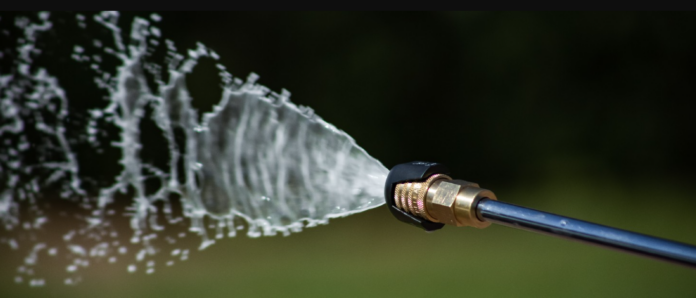 Stains and dirt are a drag. You've noticed them on your driveway, the siding around your home, or other parts of your property. And if you work with surfaces that have a coating or finish, it pays to learn the best ways to clean them.
Often, it's not as simple as using water pressure and detergent to blast away grime from these surfaces. The process can cause extensive damage without special precautions before, during, and after your cleaning session.
The purpose of power washing is to apply a strong stream of water that comes out of a hose or wand attached to a pressure washer. The water stream is strong enough to push debris along with it, and with ease, it carries it off the surface being cleaned. The beauty of an industrial pressure washer is that it can strip paint off the side of a building in a matter of minutes, and it can clean rust or mold off flooring without damaging the surface.
PSI vs. GPM
You can find pressure washers in many sizes to handle everything from industrial-size building pressure washing projects to small individual decks or patios in your backyard. There are two things to consider when looking into buying a pressure washer. They are pounds per square inch (PSI) and gallons per minute (GPM). PSI determines how much force is applied to the cleaning surface, while GPM determines how much water is being released at any given time. Both PSI and GPM are very important in pressure cleaning. If they don't match up well, your job will be disastrous. Therefore, you need to know what PSI and GPM are appropriate for a certain surface.
Types of Industrial Pressure Machines
Pressure washers usually fall into two categories: electric and gas. Gas pressure washer models offer greater water pressure compared to electric models. These pressure washers are often used to clean off outdoor furniture, patios, driveways, and decks because they can blast away stubborn dirt and grime.
On the other hand, electric pressure washers typically generate less than 1,500 PSI of force, while gas-powered cleaning machines can reach up to 3,000 PSI or more. All powered washers can create high levels of water force due to the pressure they generate.
Nozzles
Tailing the right nozzle tip is key to preventing damage during pressure washing. The tips are designed based on the job they perform. For instance, you cannot use the same spray nozzle tip and set it at the same pressure level while removing mildew and cleaning the house siding. Different nozzle tips come with most pressure washers. There are three basic types: red (0°), yellow (15°), green (25°), white (40°), and black (60°). The 0-degree nozzle tip is great for tough jobs and heavy-duty cleaning. A 15-degree tip is often recommended for windows, vehicles, and painted surfaces because the wide spray pattern causes less damage than a direct jet.
The 25-degree nozzle has become the universal choice for everyday residential cleaning because it blasts away dirt without damaging surfaces as a direct jet would. But, it is not intended to clean beyond mild soil build-up – if you need something stronger, switch over to a 25-degree or 40-degree nozzle tip. The 60-degree spray tip is designed to allow detergent to pass through it, giving you the ability to cover a surface with soap and water in less time.