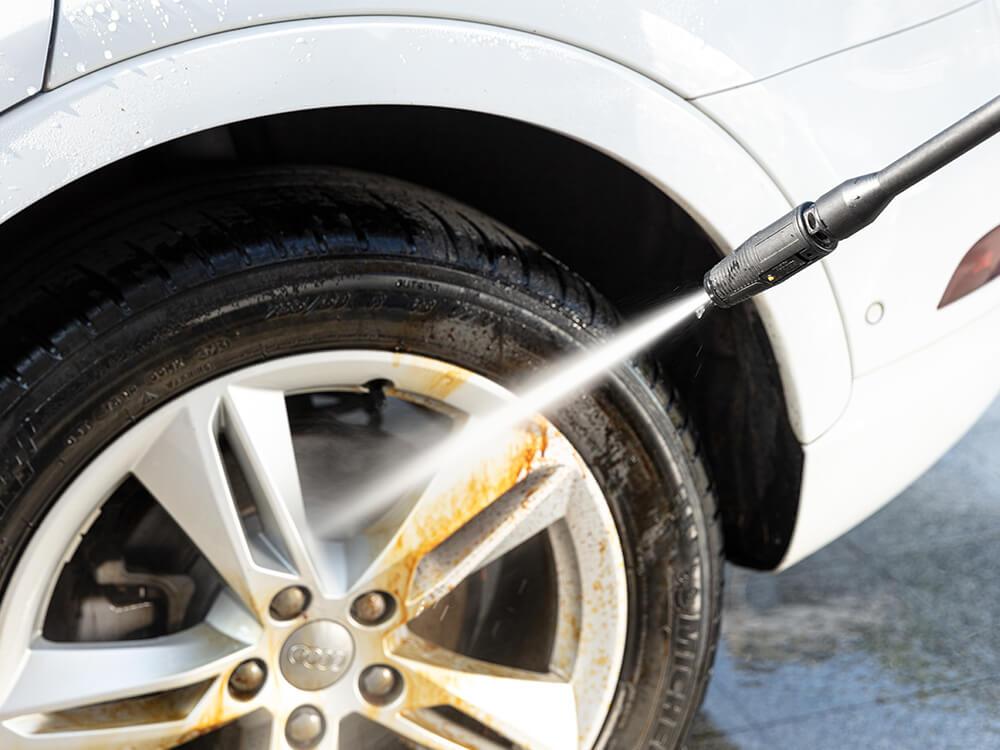 Cleaning has never been everyone's cup of tea. But because pressure washing is fulfilling, millions are turning to it to clean and maintain their backyards. Easy as it may seem, some would choose to hire a professional to handle such tasks. Some don't mind getting soaked, they roll their sleeves and get grinding.
So, if you are a clean freak and find it messy working with a garden hose, Giraffe's 2 in 1 power washer is the alternative you have been looking for. Fitted with a hose reel, it lets you keep your workspace neat and takes away the pain that comes with lifting and rolling the hose. With some little effort, your home will be sparkling clean in no time.
Power washer engines are driven by gas or electricity. The motor speed combined with powerful hoses and the nozzles seals the deal to deliver quick and excellent cleaning. When at it, be sure to fit nozzles to go with the purpose. Some nozzles have more power and aggressive than others. For example, the soap nozzle supplies soap, the brushing nozzle and the surface cleaner are gentle. The turbo nozzle is tinny and has the highest pressure hence you should be cautious with it.
Even so, a 2 in 1  power washer come loaded with many advantages
Giraffe's 2 in 1 pressure washer provides professional cleaning
It has a powerful engine designed to handle big jobs you would have spent hours or even days with a scrub. It eliminates the toil and bending. The entire process takes the least amount of your time and fulfilling since you stand while cleaning.
If you plan to repaint your wall in the near future, use giraffe's power washer to remove stains and layers of dust that have been building over the years. It gives the surfaces a makeover and combines with paint to give a dazzling look. If you have been in the habit of outsourcing your cleaning services, the new experience will drive you to use your pressure washer frequently.
Depending on how thorough you want your home to look, you can go with an electric-powered washer or a gas-powered one if you want to see fast and satisfying results. An electric power washer seems to be convenient to work with despite the fact that it is a bit sluggish.
Giraffe's 2 in 1 pressure washers come in different sizes
They vary from small to large engine machines. Generally, your workload dictates the engine size that suits you. Luckily, they fall under three categories so you can make a decision based on engine size and price.
A light-duty washer lends itself to occasional cleaning while a heavy-duty washer is sufficient when you have an expansive walkway coupled with tracks. A powerful washer may not suit you if you're cleaning needs are irregular. Far apart washing does not justify your purchasing a washer.
The benefits of installing giraffe's 2 in 1 pressure washers
Gas-powered washers are portable and have superior power. They clean pretty fast and if you want to wash an extremely dirty area, it delivers stellar results. The electric-powered ones are safe to use both indoors and outdoors. Also, they are free from harmful fumes. So, while a host of factors matters when purchasing a power washer go for something that gives you the power you want.
A recap
All pressure washers deliver good cleaning results. The impatience coupled with the need to satisfy your cleaning needs easily stand in the way. So, if you are looking to install a pressure machine, a 2 in 1 power washer offers you the convenience you deserve. The hose reel will take away the pain you would encounter when coiling stiff cords and saves you time.